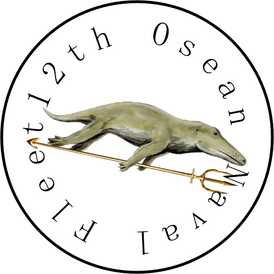 The 12th Osean Naval Fleet is a Naval Fleet of the Osean
Maritime Defense Force. It is known by the nickname "Atlantean Whales" for its emblem, an Ambulocetus holding a trident in its paws. Its flagship is the OFS Longtail
History
The 12th Osean Naval Fleet was created by the Osean President Maxwell Earnhardt as a replacement for the 3rd Osean Naval Fleet. The Fleet was used in the Wakandan-Wadiyan Conflict and the Shilagean Civil War.
Vessels
Aircraft
Carriers

OFS Enfield
OFS Kitsune
OFS Admiral Andersen
OFS Admiral Weeker
OFS Ambulocetus

Destroyers

OFS Nathan James
OFS Kei Nagase
OFS Timothy T. Harris

Landing Docks
Community content is available under
CC-BY-SA
unless otherwise noted.