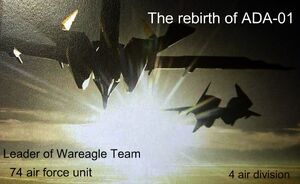 Story
The ADA-01D was discovered in a secret mission conducted in 2010 by the state of Hosea, the only working version was built by Youktubanian. When he was captured was given to the chief of operations, ie Wareagle 1.
Statistics
Force: 99+
Speed​​: 99
Defense: 97
Stability: 95
Mobility: 99+
Air-to-ground: 99+
Air-to-air: 99
Weapons
Standard Vulcan canon,
AIM-9M Sidewinder,
SDBM (Stand-off Missile Burst Distant) Pod,
2x TLS (Tactical Laser System)
Community content is available under
CC-BY-SA
unless otherwise noted.