Jurassic World: Dominion Dominates Fandom Wikis - The Loop
Play Sound
AUG

Manufacturer
Steyr
Operator[s]
Fato, Estovakia, Leasath
Type
Assault Rifle

Submachine Gun

Light Machine Gun
Operation
Gas Piston Operated
Cartridge[s]
5.56x45mm, 9x19mm
Firing Mode[s]
Selective Fire
Magazine
5.56x45mm:


30-42 round box magazine
100 round double drum magazine
9x19mm:


25-32 round box magazine
Maximum Effective Range
300 Meters
Rate of Fire
680-750RPM
Variant[s]
AUG A1


AUG A2
AUG A3
AUG 9MM


AUG HBAR
[Source]

The AUG is a Fatoan selective fire bullpup assault rifle that is manufactured by the company Steyr, AUG stands for (Armee Universal Gewher) which means Universal Army Rifle. The AUG was first produced in the early 1970's it was one of the first mass produced bullpup assault rifles (Bullpup is when the magazine and firing mechanism is located behind the trigger). It was adopted by the Fatoan armed forces in 1978 as the standard service rifle and since has been adopted by many other nations. The AUG has proved to be highly adaptable, spawning off many different variants.
Variants
AUG A1
This is the standard version of the AUG that includes the Swarovski 1.5x telescopic sight. It has a 508 mm (20.0 in) barrel and uses the 5.56x45mm cartridge.

AUG A2

The AUG A2 is effectively the same as the AUG A1 but with a redesigned charging handle and a detachable telescopic sight which can be replaced with a MIL-STD-1913 rail.

AUG A3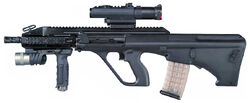 The AUG A3 is similar to the AUG A2, but features a MIL-STD-1913 rail on top of the receiver, and an external bolt release.

AUG HBAR/LMG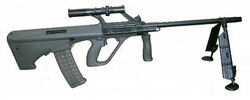 The AUG HBAR/LMG is a modified AUG that is longer with a heavier barrel that is meant to be used in sustained fire as a light machine gun.
AUG 9mm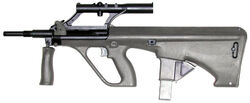 Chambered in 9x19mm Parabellum and produced since 1988. Differs from A1 model in barrel, bolt, magazine and a magazine well adapter, which allows the rifle to feed from Steyr MPi 69 magazines. This version operates as a blowback firearm, without use of the rifle's gas system. For some time a kit of the above components was available to convert any AUG into a 9mm variant.