Jurassic World: Dominion Dominates Fandom Wikis - The Loop
Play Sound
Base on the sucess of my Belka vs Osea thread, I was made to think: this explains how General Resource Ltd came to power, but what about Neucom? Well, here's your chance to answer that question (obviously, Neucom wins later on); the date is January 8th, 2019, over a year after the fall of Belka and the rise of General Resources. Neucom has turned from small company to huge industry within a short time and has recently aquired the Erusian Air and Spance Administration. However, with new military hardware at their disposal, they still wanted more, and will do virtually anything to get it, and so they declare open war on Erusia and begin the Erusian Civil War. I myself will be affiliated with Neucom Inc and will have the XR-45 Cariburn as my fighter
The arsenals (Air Forces), for each side is as follows
Neucom and Erusia
Mig-33A Super Fulcrum Mig-29A Su-27 Flanker Su-27 Flanker
Su-35BM Super Flanker Su-35BM Super Flanker
Su-47 Firkin Su-47 Firkin
F-22A Raptor F-15S/MTD ACTIVE
F-15E Strike Eagle Su-32 Strike Flanker
F-35C Lightning II Su-33 Sea Flanker
YRB-89 Tu-22M Backfire
B-1R Lancer II Tu-160 Blackjack
B-2A Spirit Tu-95 Bear
XFA-27 XFA-27
X-02 Wyvern X-02 Wyvern
YR-99 Forneus EA-18G Growler
XR-45 Cariburn XFA-24 Apalis
YR-302 Fregetta FB-22 Strike Raptor
Mig-31R Foxhound-C F-14D Super Tomcat
Wywyrm 1 17:41, July 22, 2010 (UTC)
damm no foxhound i was just starting to like that aircraft but owell ill will go with the mig-33a super fulcrum and neucom what about you Buddy? Hochsommerschnee 07:54, July 23, 2010 (UTC)
I just added the Mig-31M and the F-14D. I'm going with the XR-45 Cariburn on the side of Neucom Inc (I'll probably have to be somebody on the Erusian side as well, at which case I would be the new Yellow 13 with either the Su-35BM or the X-02).
Wywyrm 1 18:27, July 23, 2010 (UTC)
All i can say is keep it in your borders. Start moving towards the ISAF and we will be forced to take drastic measures. Hitman (radio) 20:33, July 23, 2010 (UTC)
can i instead take the MiG31m Foxhound with a COFFIN mk1 please? because the cockpit of the foxhound is rubbish its the only thing that lets that aircraft down because it blocks most of your veiw ill call it a MiG31m Super Foxhound-C Hochsommerschnee 09:02, July 24, 2010 (UTC)
Okay, sounds good. Don't worry hitman, Erusia is as far as we'll go. The COFFIN Foxhound will be the Mig-31R Foxhound-C. Bear in mind that the original Mig-33 didn't have COFFIN.
The war begins with a strike against a large Erusian city by a formation of YRB-89s escorted by Mig-33s and Su-27s. Erusia sends up the Su-35BMs of the 156th TFS "Aquila", intercepting and destroying several aircraft before being forced to retreat by the fighter escort. The Yellow Squadron took note of the Neucom Inc insignia on the aircraft and reported it to their superiors. Infuriated, Erusia declared war on Neucom, the first war declared directly upon a corporation. In response, Necom scrambles the 181st TFS "Cariburn", which, as their name suggests, was equipped with the experimental XR-45 Cariburn, one of the most maneuverable fighters ever produced.
Wywyrm 1 19:34, July 24, 2010 (UTC)
I cant believe this already lost people's interest...
Wywyrm 1 14:54, July 25, 2010 (UTC)
Maybe you should try 2 more well known factions. Hitman (radio) 01:27, July 26, 2010 (UTC)
im still intrested in it ive even adverted it on the ace combat wiki too but no ones now much about neucom or erusia thats the problum people think you have know about the players so to speak... but ill think of my move tell you you in abit Hochsommerschnee 08:18, July 26, 2010 (UTC)
To be honest with you, I haven't played AC04 in ages, and I've NEVER played AC3. I just did a lot of research into this. Wywyrm 1 19:04, July 26, 2010 (UTC)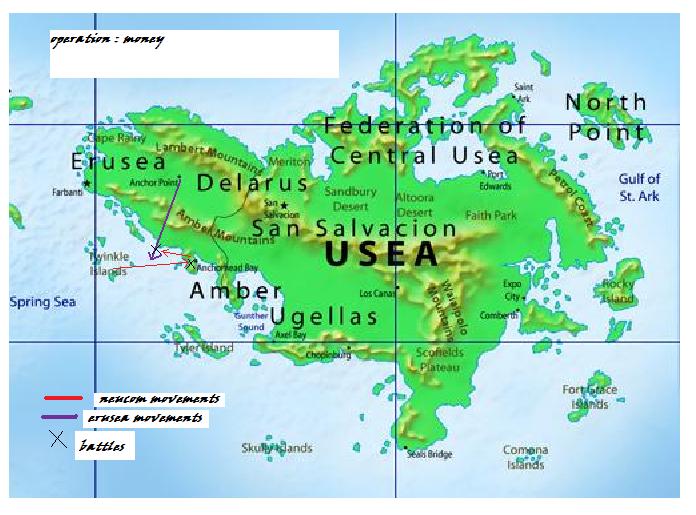 so this is whats happen up to now : The war begins with Operation: Money Shot a strike against a large Erusian city by a formation of YRB-89s escorted by Mig-33s and Su-27s. Erusia sends up the Su-35BMs of the 156th TFS "Aquila", intercepting and destroying several aircraft before being forced to retreat by the fighter escort. The Yellow Squadron took note of the Neucom Inc insignia on the aircraft and reported it to their superiors. Infuriated, Erusia declared war on Neucom, the first war declared directly upon a corporation. In response, Necom scrambles the 181st TFS "Cariburn", which, as their name suggests, was equipped with the experimental XR-45 Cariburn, one of the most maneuverable fighters ever produced.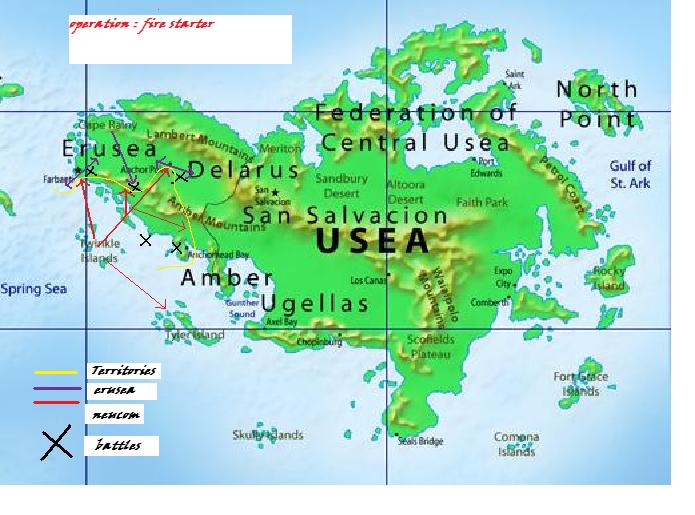 After the fatal blow what neucom did to anchorhead bay they deicide to start OPERATION:FIRE STARTER a push strait to to the captiol farbanti and anchorpoint mean while neucom sends a small black ops team to tyler island Hochsommerschnee 10:36, July 27, 2010 (UTC)
Despite many successes on the side of Neucom, there were also some major setbacks. A Spec Ops Team from the Federal Erusian Army managed to destroy several sattelite uplink nodes belonging to Neucom that were vital for the operation of their spy sattelites, at the cost of the lives of the entire team. That same day, the Cariburn Squadron scrambles to provide air support for the battle of Farbanti when the were attacked by the Yellow Squadron's Su-35BMs. No pilots on either side were shot down, but as the Cariburn Team had wasted their ammunition, they were forced to retreat. Meanwhile, over the Lambert Mountains, Neucom's Mig-31R Foxhound-C and the FEAF's X-02 Wyvern make their debuts in the War.
Wywyrm 1 03:08, July 28, 2010 (UTC)
Seeing the unrest and fighting emerging in Usea, the Union of Yuktobanian Republics placed the military units on their western borders on heightened readiness as a precautionary measure. They began to deploy recon vessels and aircraft, but kept them within international waters and clear of the Usean mainland so as not to appear provocative. Orca19904 02:11, July 29, 2010 (UTC)

Aware of Yuke aircraft within the airspace, the Neucom forces deploy YR-302 Fregatas to obtain reconnaisance data on the Yuke operations, out of suspicion that Yuketobania was eavesdropping on their communications. Mig-31R Foxhound-Cs maintain constant patrols just within international waters, and there are a few times where Yuketobanian and Neucom aircraft happen to meet up, but neither side makes aggresive moves.
Wywyrm 1 03:26, July 29, 2010 (UTC)
The Yuktobanians continue to maintain a cautious but non-aggressive stance, and on a few occasions, the Neucom pilots would observe the crews of some Yuktobanian aircraft photographing the planes sent to escort them (similar to how US & Soviet aircrews would take snapshots of each other during intercept/escort encounters during the Cold War). Around the same time, the Republic of Emmeria was also on a state of heightened alert, but did not deploy any recon/surveillance elements, not wanting to possibly aggravate the fragile situation in the region any more. Orca19904 06:34, July 29, 2010 (UTC)
After about a month of this stalemate, relations began to strain. On July 3rd, 2019, a Yuketobanian reconnaisance aircraft is approached by a formation of eight Mig-31R Foxhound-Cs. They give the Yuketobanians the following ultimatum:
Military Units of the Union of Yuketobanian Republics, the Board of Directors at Neucom Incorporated have decided it is inm our best interest to secure our borders and communications, in case might be in league with the obselete nation of Erusia. Withdraw all reconnaisance units from the area within one week or suffer the consequences, which includes the shooting down of this very reconnaisance flight. You have two hours to respond...
With this, people watching the developments of the conflict over the television hold their breath as an all-out war seems to loom on the horizon.
Wywyrm 1 22:05, July 29, 2010 (UTC)
After recieving the transmission from the Neucom fighters, the recon plane, an SR-71 Blackbird, increased speed on a heading of zero-seven-zero towards Yuktobanian territory. As the plane neared Yuktobanian airspace, the Neucom aircraft following it would detect a flight of Typhoons from Kvant squadron waiting on the Yuke side of the border to cover the withdrawal of the Blackbird and intercept the pursuing aircraft should they enter Yuktobanian airspace. Orca19904 00:36, July 30, 2010 (UTC)
The MiG-31Rs' powerful 'Foxfire II' Radar picked up the bogeys on radar. Here is the communications between the members of the squadron retrieved from the black box of the lead aircraft after the war:
Leviathan 1: The recon aircraft is approaching Yuketobanian airspace.
AWACS Storm Eye: This is AWACS Storm Eye, multiple bogeys detected just within Yuke airspace...hold it, we just recieved a SITREP. Listen up Leviathan!
Neucom President: This is the President, Captain Hendricks, are you there?
Leviathan 1: Yes Mr. President, I'm here. What are your orders?
Neucom President: You have permission to fire on the Yukes. We have reevaluted our position, and based on advanced simulation software, every single possible outcome has us winning against Erusia and Yuketobania, even though are losses could be heavy. You have permission to fire on the enemy. Wipe them out before they can send a distress signal.
Leviathan 1: Roger that, Leviathan 1, out.
Leviathan 2: Target is in MBC range!
Leviathan 1: We are cleared to splash bogeys. Weapons armed hot.
Leviathan 2: Roger that, tracking target and arming guidance system.
Leviathan 1: Ready...and...now! Fire at will!
In the next few seconds after this, the MiG-31R Foxhound-Cs fire their Microwave Beam Cannons, destroying each of the Typhoons and the Blackbird, killing everyone aboard the Blackbird and every one of the Typhoon pilots, the Microwaves completely disabling all electornic systems and making it impossible for a distress signal to be transmitted. The Leviathan Team turn back around, firewall the throttle, and fly away at full speed before the Yuketobanians could scramble fighters to intercept them.
(You do realize Neucom is supposed to win, right?)
Wywyrm 1 05:36, July 30, 2010 (UTC)

It is also at this time that Erusia completes the initial production phase of its last-ditch-defense weapon (the fuselage and some defensive armament): A massive spaceplane called the EASS Jörmungandr (EASS means Erusian Air and Space Service, where as the name refers to the Midguard Serphent from the legend of Ragnarok) that would be so heavily armed and so massive, it would be no exageration to call it a Space BATTLESHIP. When completed, the massive space-borne warship would be the first of its kind, and would have the firepower not only to defeat Neucom, but perhaps allow Erusia to defeat every major World Power within a matter of hours. The craft, although not complete, already had an astonishing array of TLS cannons to defend it from attack, along with a quartet of more powerful versions of the Osean Superlaser, once used on the Arkbird in 2010. (Image will be added later, once I decide how it would look...or...wait, I have a better idea: Midsummersnow and I could come up with different renditions of the craft, and the better-looking one will be the appearance we'll use).
Wywyrm 1 05:55, July 30, 2010 (UTC)
Since this is a sumulated war, theres really no set outcome. Hitman (radio) 09:34, July 30, 2010 (UTC)
Following the downing of the Yuktobanian aircraft, several world leaders, including the Yuktobanian and Estovakian Prime Ministers, condemned the attack, the Yuktobanian Prime Minister claiming that the reconaissance aircraft had been attempting to withdraw as per Neucom's demands and that the Typhoon fighters were on the Yuktobanian side of the border and were exhibiting no offensive action at the time. In a press conference, the Yuktobanian Prime Minister made the following statement;
"Neucom's unprovoked attack on members of our armed forces was a heinous act perpetrated by cowards. As of today, I am ordering defense units along our western borders to full alert and forbidding all Neucom military forces from entering Yuktobanian territory. Furthermore, I am enacting a trade embargo until those within the Neucom military responsible for the murder of our pilots are brought to justice."
Orca19904 09:51, July 30, 2010 (UTC)
Neucom was appalled with the accusations brought against them, claiming that they had never ordered such an attack. This was in fact true, as the Leviathan Squadron and AWACS Storm Eye were secretly agents of the Erusian military, hoping to provoke a war between Yuketobania and Erusia to buy them time to finish construction of the Jormungandr (not that anyone knew this). The supposed Neucom President was in fact an imposter, and was leading the effort to provoke a war, although the real President is unaware of this. Even more pressing was the true identity of Leviathans 1 and 2, who were in fact using aliases; their real names were Everette Barkhorn and Gunter Tersund, formerly pilots in the Belkan Air Force under the callsigns Wywyrm 3 and Wywyrm 4 respectively.
It is also at this time that a seemingly insignificant Neucom squadron begins official operations. Their Leader, acting under the callsign "Lightning", would later become a legend for his exploits during the War, especially at the very end. Erusia launches a massive counterattack at this time, pushing the Neucom forces back a long distance, despite an entire formagtion of bombers being shot down by the Neucom Lightning squadron.
Meanwhile, the 181st TFS Cariburn engages the 156th TFS Aquila in battle. Cariburn, although flying superior aircraft, were eventually overwhelmed and defeated by the Yellow Squadron. Not a single member survived the engagement.
Wywyrm 1 14:53, July 30, 2010 (UTC)
GAH!!! Lost people's interest again!!! Wywyrm 1 19:29, August 1, 2010 (UTC)
dude we need to advertise this a bit more including this wiki too iv even told people on devent art about this and youtube Hochsommerschnee 08:06, August 2, 2010 (UTC)
Within a couple days of the downing of their planes by Leviathan, the Yuktobanians increase their defenses on their western borders, including a picket line of RQ-170B Sentinels, which were RQ-170 UAV's modified to serve as unmanned AWACS aircraft, the planes flying 24/7 patrol routes to monitor Yuktobania's western borders for further Neucom military incursions. Meanwhile, Yuktobania fast-tracked a project to 'harden' their military equipment against directed-energy attacks such as the MBC system employed by the MiG-31R. The Yuktobanian government also forbade all Neucom commercial traffic from entering their harbors and airports, and ceased exports to them as per the trade embargo announced in the press conference, thus depriving Neucom of their largest source of natural resources in the Verusan continent. Orca19904 16:10, August 2, 2010 (UTC)
Neucom, unphased by this development, puts all forces on high alert, sending several fighter squadrons to the bases nearest international waters. A week after this, a Neucom AWACS detects several bogeys within Neucom's air space. At this moment, a training excercise was underway when they were attacked by said bogeys, which was believed to be an unidentified Yuketobanian Squadron. The squadron is then intercepted and shot down by the Lightning Squadron, with another formation supposedly sent as reinforcements, but these were brought down by the Leviathan Squadron.
Meanwhile, the engines on the Jormungandr are completed in orbit, the massive dreadnought eluding detection thanks to its stealth design (it's radar cross section was reduced to the point it was believed to be a weather satellite for most of the War). The construction of the main power core is also nearing completion. On the ground, the Erusians have managed to procure an Ex-Belkan VX Antimatter Bomb, which they intend to load on to the Jormungandr once the dreadnought is completed. In the meantime, an upgraded version of Stonehenge is completed at the newly reactivated Megalith Fortress. Once the ammunition could be obtained in large quantities, Erusia would have what it needed to stop the Neucom advance until the Jormungandr could be completed.
Wywyrm 1 01:52, August 3, 2010 (UTC)
Orca? Hitman? Snow? ANYONE!? Wywyrm 1 17:32, August 4, 2010 (UTC)
DANGIT!!! THIS THING'S ALREADY DIED ON ME!!! Wywyrm 1 21:46, August 8, 2010 (UTC)
Grabacr 1 here! Grabacr 1 15:40, August 9, 2010 (UTC)
Rodd, get to work on edits, NAO!!! Wywyrm 1 20:23, August 9, 2010 (UTC)
As the situation between Neucom and Erusea continued to escalate, and since the Neucom/Yuktobanian incident happened precariously close to their territory, ISAF forces were also put on alert, with the 118th TFW, now flying X-02 Wyverns instead of their original F-22A Raptors, conducting regular patrols to monitor their borders for hostile incursions from either combatant. In light of the incident with the Yukes, the Wyverns were equipped with a version of the ECM system employed on the ADF-02 Super Falken during the Osean Continental War which had been reverse-engineered to defend against directed-energy attacks. Orca19904 06:44, August 11, 2010 (UTC)
For a few days, the 118th's patrols were uneventful, until one day they recieved word from AWACS Sky Eye of bogeys approaching the western border of San Salvacion and were vectored to intercept.
"This is AWACS Sky Eye, bogeys heading zero-niner-zero at two-niner-zero miles, angels 12, warning yellow, weapons hold. I say again, warning yellow, weapons hold, over."
"This is Mobius One, acknowledged, bogeys on my nose bearing zero-zero-two coming head-on. Radar shows a flight of 8, can you confirm? Over."
"Sky Eye to Mobius One, 8 bogeys confirmed, over."
"Mobius One, acknowledged, break, Mobius One to Mobius flight, drop to angels 11, over."
Orca19904 16:10, August 11, 2010 (UTC)
Sure enough, the infiltrators were the Leviathan Squadron, who in fact never intended to cross into San Salvacion, but somehow they had gotten lost, and only now did they realize their error...but not before five ominous blips appeared on radar.
Storm Eye: This is Storm Eye, five bogeys approaching from your six o'clock
Leviathan 1: Roger Storm Eye, confirm the targets.
Storm Eye: Confirmed...what the, there's five yellows!? Retreat, return to base. Do not engage! Repeat! Do NOT engage!
Leviathan 1: Dammit! Alright, climb to altitude and turn 180 degrees. Return to Base!
As Leviathan retreats, the pursuing Yellow Squadron, sporting X-02 Wyverns in their signature colors, notices several faint blips on radar. Their IFF doesn't register the bogeys, and so they assume them to be Neucom fighters. AWACS Sky Eye intercepted the following communications:
Yellow 11: This is Yellow 11, bandits approaching from 12 o'clock high!
Yellow 8: They've got Switchblades!
Yellow 13: This is Yellow 13, roger that. All aircraft, you are cleared to splash Neucom Switchblades. Fire at will.
All Yellows: Fox Three!!!
And so, with that communication, the Yellow Squadron mistakenly engages Mobius, in a classic redo of their match at the siege of Megalith.
Wywyrm 1 22:40, August 11, 2010 (UTC)
The moment the ISAF fighters' missile warning alarms started buzzing, the planes immediately broke formation to evade the incoming fire, the missiles failing to track on the targeted planes' sharp turns.
"This is Mobius One, we're taking fire, all planes engage! Master arm on! Okay, good tone, fox three, fox three!"
"This is Mobius Two, tally ho on bandits, it's Yellow, I say again, we are engaged with Yellow, over!"
By this time, the Erusean fighters should be able to see the ISAF markings on the closing X-02's, and recognize that it wasn't a Neucom squadron at all. The only question left now is how many souls the Grim Reaper leading them would collect today. Orca19904 00:30, August 12, 2010 (UTC)
At this time, Yellow 13 notices the grave error he's made, and orders his squadron to cease firing. The following message was sent to Mobius:
Yellow 13: This is Yellow 13, we sincerely apoligize for attacking you. We thought you were a Neucom Squadron we were pursueing, callsign Leviathan. Supposedly they're the Foxhound Squadron that shot down those Yuke aircraft a few weeks ago. Your aircraft registered as Neucom fighters on our IFF, a simple glitch. Again, we apologize.
To illustrate his point, he ordered his squadron into a delta formation, all flying straight and level, without making any aggressive moves as they flew back towards Erusian airspace when suddenly their alarms go off. Suddenly, four of the five X-02s burst into flame, the pilots incinerated before they could eject. Yellow 13 took evasive maneuvers, turning his head to see, to his horror, that they had been ambushed by the Leviathan Team, who was firing on both Yellow AND Mobius. Leviathan 1 sent a message to Mobius 1, the latter of whom would certainly recognize him as the former Wywyrm 3.
Leviathan 1: Well well Mobius, long time, no see! I still haven't forgotten what you did to our Number 2.
Leviathan 2: We're gonna make you pay for the pain you put our friend through! We will avenge Wywyrm 2 and we will vindicate our Leader!!!
At this point, it becomes clear to the combatants that Leviathan is comprised entirely of ex-Belkan Aces from the last war, and there were out for blood.
Wywyrm 1 03:08, August 12, 2010 (UTC)
At first, Leviathan appears to be gaining the upper hand, but suddenly, out of nowhere, a lone fighter, an Su-47 to be exact, streaked in from above. Leviathan 1 got a fleeting glance of it as they passed; the paint was weathered, but he could clearly make out a black and red paint scheme with a grinning shark's mouth on the nose and a Belkan Air Force roundel on the wings. Then, to his horror, one detail told him all he needed to know; on the tailfin was the image of a dragon, and below it, the numbers "3113"...
Leviathan 1: It...It can't be...DAMMIT!!!
???: What do you think you're doing Captain Barkhorn?
Leviathan 1: I should ask the same of you, and why are you fighting against us!?
???: Because I fight for peace, while you fight to prolong a war that should have never happened. That I will never forgive...I'm sorry old friend, but I'll have to shoot you down!
Leviathan 1: You will try...but you will not succeed!
With that, Leviathans 1 and 2 turned away from the main engagement and took on the mystery fighter alone...and cue dramatic battle music from MGS4!

(I'll give you three guesses who it is XD)
Wywyrm 1 04:21, August 12, 2010 (UTC)
is it you? Hochsommerschnee 09:51, August 12, 2010 (UTC)
mean while in the pursuing dogfights stormeye notices something on radar something very fast, 2 MiG31 Foxhounds going straight for the unknown pilot this said team sported a wheel and a lighting bolt on the tail fin of their migs meaning one thing the taranis team... Hochsommerschnee 09:56, August 12, 2010 (UTC)
(Yep, it's me!)
At this time, yet another squadron enters the fray; Neucom's Lightning Squadron, but something is very wrong. Rather than joining the fight, they were running, and they were being pursued by two Erusian Squadrons, Red and Black. Most of the Leviathan Team breaks off to pursue Lightning, save Leviathans 1 and 2, who by now were both shot down by the mystery fighter, but they managed to bail out in Erusian territory; they wouldn't reappear until the final day of the war. The mystery pilot then engages the rest of Leviathan, holding them off while Lightning escaped...until an ominous message came in over the mystery pilot's radio that was intercepted by AWACS Sky Eye.
AWACS Taifun (Typhoon): This is AWACS Taifun, Wywyrm 1, dive below 1000 feet!
??? (Wywyrm 1): What the...why now!?
AWACS Taifun: Burst Missiles have been fired from Megalith, ETA 1 minute!
??? (Wywyrm 1): DAMMIT!!!
At this, Leviathan and the Erusians firewalled the throttle and retreated. Lightning, Wywyrm, Yellow an Mobius dove below 1000 feet just as the missile impacted. Megalith was now operational once again. Wywyrm 1 16:07, August 12, 2010 (UTC)
After evading the burst missile attack, Mobius flight recieved orders to bug out and evacuate the combat zone.
Mobius One: "All planes, get down on the deck, unload, 500 knots, let's get outta here!"
AWACS Sky Eye: "Second burst missile inbound, all aircraft, brace for impact!"
Mobius One: "All aircraft set course zero-niner-zero, full afterburner!"
As the ISAF Wyverns rocketed above the terrain at treetop level, burst missile attacks would continue, targeting all non-Erusean aircraft within range until they had either been brought down or successfully escaped the engagement area. Mobius flight would miraculously escape the chaos unharmed, having weaved their way through the mountains west of San Salvacion's capital city and placing them out of Megalith's line of fire. They then landed at the airport there to refuel before returning to base. Upon returning to base, they would be informed that ISAF was planning an immediate large-scale operation to eliminate Megalith once again, with Mobius as the central figure in the attack. Orca19904 17:42, August 12, 2010 (UTC)
Neucom delegates contact ISAF, revealing that they have discovered the Erusian ruse. Leviathan is branded traitors and is now being hunted down. Meanwhile, Wywyrm 1, acting under an alias as a mercenary pilot (despite his Belkan Air Force uniform) and is assigned to fly alongside Yellow 13, who has defected to Neucom. The newly formed Wywyrm Air Command Squadron officially begins operations, with the ex-Belkan AWACS Taifun as their Command and Control Aircraft. At this time, Erusian military personal begin talking of a pilot known as 'Heaven Shaker" and "God of War". Intelligence would later reveal this to be Lightning, who would become the War's top ace. Wywyrm 1 and Yellow 13 fly recon over Megalith and barely excape with their lives. Lightning would be the central player in the fight at Megalith on Neucom's behalf, but unknown to them, Lightning had already left on a strike against it, escorted by Wywyrm 1 and Yellow 13. The three fighters suceed in destroying the control room, disabling the base and rendering it useless. By the time ISAF arrived a week later, Megalith was once again abandoned, the few survivors shaking in fear and repeating the words "Heaven Shaker..." Wywyrm 1 20:48, August 12, 2010 (UTC)
Following the revelation of Leviathan's true nature and that they were the ones responsible for the murder of their pilots, the Yuktobanians lift their trade embargo and offer to provide assistance in bringing the renegades to justice. ISAF forces would then occupy the Megalith fortress, intent on dismantling it and ensuring that it could never again be used for military purposes. The base would also be used as a forward base for ISAF forces planning to launch an assault aimed at eliminating Erusia's military capabilities, coordinating with Neucom for a joint operation. Orca19904 22:10, August 12, 2010 (UTC)
The Neucom President, meanwhile begins discussions with officials from Yuketobania and the ISAF on what to do with the ruins of Megalith, among the ideas being to turn it into a war memorial (this would eventually become reality in the following year). The families of the Yuketobanian Pilots that were shot down were sent letters of consolation and their children given full ride college scholarships to the University of Dresdene in eastern Yuketobania. Lightning, Wywyrm 1 and Yellow 13 continue to engage Erusian radicals when suddenly the entire Neucom ground unit sent to attack Farbanti was wiped out by an unknown attack. The following communications were intercepted:
Erusian Ground Control: This is Nest. Attack confirmed successful, laser cannon targeting system fully operational.
???: Roger that Nest. Power core stable, all weapons functional, fighter launch mechanism fully functional. EASS Jormungandr is now operational.
Erusian Ground Control: Roger Captain Reidel. Prepare to commence operations once we can send your payload, ETA 72 hours.
In light of this, Neucom modifies the experimental XF-22C Raptor II, the only one in existence at the time, with Scramjets and life support for orbital flight along with advanced thrusters and a pulse laser. Lightning would be the pilot to fly this aircraft, as he was the only pilot, other than Wywyrm 1, that Neucom had access to that was certified to use the COFFIN v2.0 system. The aircraft wouldn't be ready for three days, so until then, the Allied Forces had to do everything they could to stop the delivery of the Jormungandr's payload, including an ex-Belkan V-X ICBM. Wywyrm 1 22:35, August 12, 2010 (UTC)
The Taranis squadron was assigned to protect the V-XICBM while in transport to the Mass Driver a massive cannon able to lanch huge amouts of weight into space with little effort:
KARA: "Rota protect the mass driver at all costs!"
ROTA: "Roger that honey!"
ROTA: "Darling i WANT A NEW PLAY THING NOW please... may i play with this so called "God of war"?"
KARA: "In time darling, in time..."
Hochsommerschnee 09:04, August 13, 2010 (UTC)
At this time, the Leviathan Squadron also appears to protect the cannon, but most are unaware that they are operating as part of a secret organization, which in 2045 was revealed to be Ouroboros, which in 2019 was being lead by Joshua Bristow and Lorenz Reidel (The former of whom just having escaped from prison).
Leviathan 1: Nice to see you again Kara. I trust you're in good health?
Leviathan 2: We've been assigned to defend the V-X as well. Rota, you checking your six o'clock?
Meanwhile, the Wywyrm Air Command Squadron appears as well flying their Su-47s, this time to launch a nuisance raid while taking out the fighters...all ten. These Su-47s had Super Falken ECM shields to protect against the MBC. AWACS Taifun flies miles away, a newly fitted laser cannon guided by radar
Wywyrm 2 (Yellow 13): This is Wywyrm 2, there's ten of them, all in Foxhounds
Wywyrm 1: This is Wywyrm 1, targets confirmed...Taifun, are we cleared to fire?
AWACS Taifun: Roger Wywyrm, fire at will. Prepared to provide cover with aircraft mounted laser cannon.
Wywyrm 1: Roger, Fox 3!
The two Su-47s release a total of 8 XLAAs, which streak towards their targets at high speed...
Wywyrm 1 14:56, August 13, 2010 (UTC)
sigh* Well, it's up to me I guess...
Six of the Eight Foxhounds from Leviathan were hit by the XLAAs and were killed on impact. Leviathans 1 and 2 evade and attempt to pursue when their fuel ran low and they were forced to break off the chase. Wywyrm and Taifun escape the combat zone and return to base with vital data on the mass driver. The launch was to take place in just over thirty-six hours, and another 24 hours after that, the Jormungandr would launch its attack.
Wywyrm 1 20:04, August 16, 2010 (UTC)
Twelve hours after Wywyrm's engagement with Leviathan, word would spread through the allied forces of a burst missile attack on the mass driver site. The attack was conducted by a Yuktobanian Typhoon-class nuclear submarine that had been modified to fire burst missiles instead of nuclear ICBM's. The attack would catch the Eruseans completely offguard and deal devastating damage to the facility. Meanwhile, the ISAF forces, spearheaded by Mobius Squadron, pressed on with their operation to neutralize Erusea's military capability and also targeted any facilities that could be used to ferry supplies to the Jormungandr, ISAF commanders giving the operation the codename "Python". Orca19904 07:47, August 18, 2010 (UTC)
Mobius and Lightning Squadron lead the attack on the mass driver, with Wywyrm providing top cover, which at first seemed to go without a hitch; that is, until Taranis Team showed up. At this point, Mobius continued attacking the mass-driver, while Lightning now flew the completely modified XF-22C Raptor II in battle for the first time. The XF-22C shot down both pilots from Taranis, but both bailed out and lived to tell about it. However, Taranis had already accomplished their mission, as two objects were now launching simultaneously from the airfield nearby. They were a pair of fighters flown by Leviathan's 1 and 2 that were although unidentified at the time were later revealed as heavily modified pirated copies of a Leasath prototype fighter known as 'Fenrir'. After that, a low rumble could be heard, the ground beginning to shake as a silo opened up, and from it launched a massive Belkan-made missile with the unarmed V-X onboard. Taifun was out of laser cannon range, and so could not shoot down the missile.
Now, the entire world had a crisis on its hands as it was confirmed that Jormungandr was indeed a space battleship; to make matters worse, it was no longer controlled by Erusia, but by a terrorist group based on A World With No Boundries that would later become Ouroboros, lead by Lorenz Reidel and Joshua Bristow. The Leviathan Team's Fenrirs were modified for orbital flight, although unlike the production varient, they lacked DOS, but made up for it by using a mottled matte black paint scheme that mimicked the background of space. In desparation, Lightning pulled up in pursuit, despite his superiors telling him it was too dangerous. It was at this time that many came to believe he really did live up to his title; he lived for battle, to him, peace was an illusion, something he could not live in even though he desired it, and so he was going to destroy the great serphent, or die trying.
As the XF-22C made it into orbit, Lightning was immediately set upon by Leviathan, but like their comrades, after a long and hard fought engagement, both were shot down and burned up in the atmosphere. Neither survived. Following this, Lighting climbed further and flew full speed to his target and his destiny... (Image of the XF-22C was done by Midsummersnow. Image of Jormungandr was done by Wywyrm 1. IMAGES NOT TO SCALE WITH EACH OTHER!!!)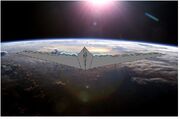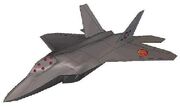 This is it people, the final battle! Place your bets on the winner! (jk jk)
Wywyrm 1 17:27, August 18, 2010 (UTC)
As Lightning ascended to orbit altitude, he would recieve the following transmission:
AWACS Sky Eye: "This is AWACS Sky Eye to Lightning, be advised the Jormungandr is being targeted by Yuktobanian burst missiles, keep a minimum distance of five thousand feet from the target during the missile volleys to avoid getting caught in the explosions! First volley is inbound, impact in 10 seconds!"
The Neucom pilot would then observe an impressive volley of covering fire in the form of burst missiles fired from the same Yuktobanian sub that had attacked the Erusean mass driver site, intending to at the least decimate the Jormungandr's defenses. Orca19904 10:35, August 20, 2010 (UTC)

The missiles disabled the Jormungandr's long-range radart, which is capable of detecting any object between the Earth and the Moon. The weapons control radar, however, is still operational. As Lightning approaches the Jormungadr, a hornet's nest of laser cannons and railguns open up on the lone fighter. Despite an intense AA barage, Lightning made it through, flying into the hangar to attack. The personel inside the hanger looked on in astonishment and disbelief as Lightning flew down ever-tightening corridors until at last he was in the reactor room. Firing a single pair of missiles, Lighting disrupted the magnetic containment field, causing the antimatter core to explode. Lightning pulled up sharply, flying up a narrow thermal exhaust port as the ever-expanding fireball followed him out. Lightning escaped the wreckage just as the massive dreadnought exploded...but not before being struck by debris, critically damaging his fighter. This is a log of his last known communications:
AWACS Sky Eye: Lightning, come in! Report your status!
Lightning:...This is Lightning, the Jormungandr has been destroyed...but I've taken severe damage. Flight Control and Life Support Systems are failing, the radar has already given out...I can't return to base.
AWACS Sky Eye: What the...Lightning, no! You can survive this; hang in there!
Lightning: Hehehe...nah, in a peaceful world, I'd have nothing to live for...hello boys, I'm coming home...
At this moment, the doomed XF-22C reentered the atmosphere and began to break up. Many people on Earth below, from Osea to Verusia to North Point notice a bright meteor falling through the sky and slamming into the surface far away; this was all that remained of Lightning's fighter. The great ace was dead.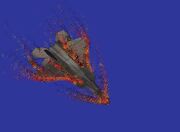 One year after this, the Erusian Civil War Memorial is dedicated to all those who fell in battle on both sides. Among those at the ceremony were the leaders of Osea, Yuketobania and the ISAF along with the Neucom President and the ex-Erusian President. The memorial resembled a soldier charging into battle, and above him, Lightning's XF-22C Raptor II. Lightning was considered the true hero of the conflict, a man who lived for battle, but fought for peace. In this way, he is one of history's greatest ironies.
Wywyrm 1 15:03, August 20, 2010 (UTC)
Ace Combat 8: The Fall of Erusia
Cast
Wywyrm 1 as Lightning
Orca19904 as Mobius Squadron
Wywyrm 1 as Yellow Squadron
Wywyrm 1 as Leviathan Squadron
Midsummersnow as Taranis Squadron
Wywyrm 1 as the Neucom President
Erik Felsen as Wywyrm 1
Wywyrm 1 as Cariburn Squadron
Wywyrm 1 as Ouroboros
Orca19904 as the Yukes and ISAF
Storyline
Wywyrm 1
Planning
Wywyrm 1
Superweapons
Wywyrm 1
Midsummersnow
Marketing
Wywyrm 1
Filming
Midsummersnow
Stunts
Everyone
Producer
Wywyrm 1
Director
Wywyrm 1
Special Thanks
All who participated
Protostealth
Raymorn
HavocReaper48
Very Special Thanks
Namco Bandai
Project Aces
AceWiki
Ace Combat Fanon Wiki
FIN
Okay, now we need to get to work on articles.
Wywyrm 1 15:03, August 20, 2010 (UTC)