Line 1:
Line 1:
 
+

{{Aircraft

−

{{aircraft

 
 

| name = Eurocopter EC-665 Tiger

 

| name = Eurocopter EC-665 Tiger

 
+

| image = [[File:Eurocopter Tiger p1230203.jpg|300px]]

⚫
 
 
+

| imagecaption =

−

| image =http://upload.wikimedia.org/wikipedia/commons/thumb/c/c1/Eurocopter_Tiger_p1230203.jpg/300px-Eurocopter_Tiger_p1230203.jpg

 
−

| role = Multirole Atacker Helicopter

+

| role = Multirole Helicopter

−

| manufacturer = Eurocopter

+

| manufacturer = Eurocopter

 
⚫
 
+

| operators = Multiple countries

 
⚫
 

| fanon =

 

| fanon =

−

| primary_op = Many Countries all over the world

 
−

| secondary_op =

 
⚫
 
 

}}

 

}}

 
 
Line 50:
Line 50:
 
 
 

Air to Ground Guided Missle('''XAGM'''): AGM-114 Hellfire Missiles

 

Air to Ground Guided Missle('''XAGM'''): AGM-114 Hellfire Missiles

−

[[Category:Aircraft]]

 
---
Latest revision as of 07:56, 27 June 2015
the Eurocopter EC-665 Is a Helicopter manufactured by Eurocopter.in OSEA and Yuktobania is known as Tiger,and in Sapin is known as Tigre.
Overview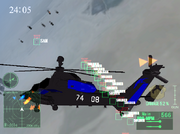 The body of the Tiger is made from 80% carbon fiber reinforced polymer and kevlar, 11% aluminium, and 6% titanium. The rotors are made from fiber-plastic able to withstand combat damage and bird strikes. Protection against lightning and electromagnetic pulse is ensured by embedded copper/bronze grid and copper bonding foil.
it is used by many countries in USEA,OSEA and Anea Continents.a variant used by belka was the Eurocopter EC-665 UTH(Unterstützungshubschrauber Tiger) and a later 3.0 COFFIN version of this helicopter,called ECC-665 is in use by the Universal Peace Enhacment Organization(UPEO).
Users
Osea Air Defense Force (OADF): have 300 units
Yuktobania Air Force (YAF): have 200 units
Belkan Air Force (BAF): 200 units untill the end of Belkan War, today number is unknown
Republic of Emmeria Air Force(REAF):have 100 units
Universal Peace Enchacment Organization (SARF):Have 500 units of ECC-665 and 300 more ordered untill 2055.
Status
Maximun Speed: 315 km/h in earlier versions, 480 Km/h in Latter Versions
Speed: 80
Mobility: 72
Stability: 84
Defense: 90
Air to Air: 58
Air to Ground: 97
Weapons
Gun: 25mm chaingun
Ungided Bomb(UGB)
Napalm Bomb(NPB)
Rocket Launcher Pod(RCL): SNEB Rockets
Air to Air Helicopter Missle (AAM): Mistral Missiles
Air to Ground Guided Missle(XAGM): AGM-114 Hellfire Missiles
Community content is available under
CC-BY-SA
unless otherwise noted.