Jurassic World: Dominion Dominates Fandom Wikis - The Loop
Play Sound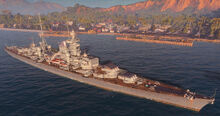 The SHS Oldenburg was a Belkan armored cruiser that saw service during the Belkan War and was the flagship of the Verusa Squadron, stationed in Estovakia. Launched in 1985, it was constructed part of the naval armament program of the Belkan government in preparation for any potential conflict against the Osean Federation. It was first part of II Battle Squadron of the High Seas Fleet prior to being transferred to the Verusa Squadron in 1989, where it became the flagship.
History
The Oldemburg-class was designed in the mid 1970s by the Anfang–Trapp Shipbuilding Bureau for the Belkan Navy. It was created primarily to counter the Osean navy's larger fleet by providing more firepower. Laid down in 1979, the Oldenburg was comissioned in 1983 and launched two years later. It was the first ship of its class. SHS Oldenburg underwent its sea trials in late 1985 and the following year it traveled to Erusia as a training voyage with her new crew. In February 1987 it was decided that the cruiser would be part of the High Seas Fleet, along with many other new vessels constructed for the Belkan Navy.
After two years of service in II Battle Squadron of the High Seas Fleet she was transferred to Verusa Squadron, named for the continent it was stationed at. SHS Oldenburg arrived in Estovakia, where the squadron was based, in September 1989. She was soon made the new flagship of the unit. The cruiser took part in several training war games with the Estovakian Navy between 1990 and 1993. In July of that year, it briefly returned to the Belkan part of Lumen for a small refit before returning to Estovakia in December 1993.